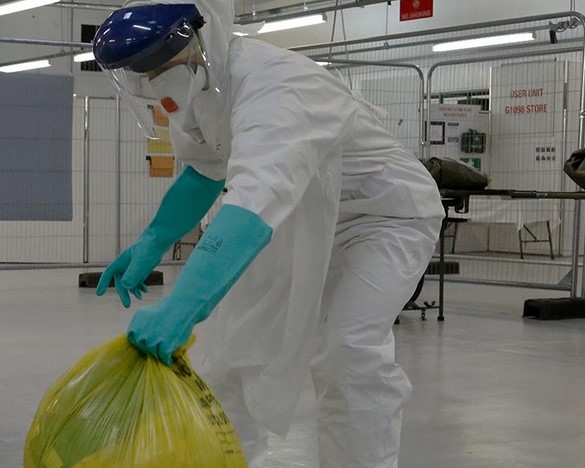 Have you ever been to a doctor's office? If yes, did you notice a small container kept in one corner at the doctor's office? If your doctor does not have a medical waste container in the office, it's high time you left the office as it is not safe. Doctors deal with cases that involve a significant amount of medical waste regularly, so they need to have at least one disposal bin in their office. This is the proper procedure for every medical professional. Every doctor's office should come with a medical waste disposal bin. Just as there are local companies that handle regular waste disposal at home, medical waste disposal services specialize in dealing with the proper disposal of medical waste generated from medical practices.
These bins keep both the doctors and patients safe. Also, it helps make the doctor's office look well organized. Any office that does not have this bin in place puts the health of the medical practitioners and the patients at great risk of infection. Odds are a stray needle or syringe contaminated with blood can easily pierce the skin of another individual if kept carelessly. In the same vein, patients and doctors can easily get contaminated by bodily fluids on examination gloves.
Whatever goes into a medical waste disposal bin does not come back out. Instead, it ends up in a packaged, properly labeled trash bag used by medical waste disposal services when transporting the waste off the facility for treatment and proper disposal. Medical waste bins are built to protect their content. Without this protection, it will just be typical trash that can be used for residential waste.
However, the doctor does not dispose of all tools used while examining a patient. There are some tools and equipment that are indispensable. These indispensable items are carefully placed aside or in a separate container to be sanitized. Autoclaving is one of the common methods these companies use to keep their items safe. This method kills all biohazard and harmful contaminants on the tool, making it safe for use for the next patient. Whatever tools or items that cannot be salvaged should end up in the sanitary disposable bin.
Medical Waste Disposal Service Company 
Good thing is that doctors nowadays take health precautions seriously. They treat medical waste with great care and attention. Every doctor's office is more likely equipped with a medical waste bin. However, it is one thing to gather waste generated during examination or surgery, proper disposal of the accumulated waste is yet another thing to worry about. At this juncture, health facilities leave this task to medical waste disposal services. These technicians are specialists in handling and managing this harmful waste. They arrive at the facility at an agreed time and date to transport the accumulated waste to the right disposal facility.
Any healthcare facility caught disposing of medical waste illegally will face the full wrath of the law. To be on the safe side of the law, hire an expert medical waste disposal service today.