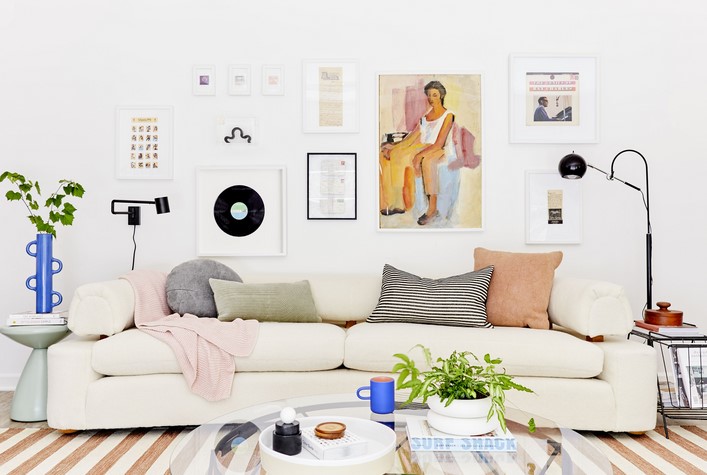 Decorating your living space with eye-catching wall art is a fantastic way to infuse personality and style into your home. However, many people shy away from incorporating wall art into their interior design due to the perceived cost associated with acquiring artwork. But fear not! Creating stunning homemade wall art on a budget is easier than you might think. In this article, we'll explore various creative and cost-effective ways to craft personalized wall art that will transform your living spaces into unique showcases of your creativity and taste.
1. Unleash Your Inner Artist with Canvas Painting
Canvas painting is an excellent starting point for creating stunning wall art on a budget. Invest in some inexpensive canvases and a basic acrylic paint set, and you're ready to unleash your inner artist. Experiment with colors, patterns, and abstract designs to create artwork that reflects your personality. The beauty of canvas painting is that you can keep painting over previous attempts until you achieve the desired result, making it a forgiving and affordable artistic endeavor.
2. Embrace the Beauty of Nature with Pressed Flower Art
Pressed flower art is a delightful and budget-friendly way to bring the beauty of nature into your home. Head out to your garden or a nearby park to collect a variety of colorful flowers and leaves. Once you've gathered your botanical treasures, place them between the pages of a heavy book for a couple of weeks to press and dry them. Afterward, arrange the pressed flowers on a clean background, such as plain paper or cardstock, and frame your creation. Not only is pressed flower art a unique and aesthetic addition to your walls, but it also preserves the fleeting beauty of nature.
3. Transform Ordinary Objects into Extraordinary Art
Another budget-friendly way to create stunning wall art is by transforming ordinary objects into extraordinary pieces. Look around your home for items that are visually appealing or have sentimental value. Old keys, vintage buttons, seashells, colorful fabric scraps, or even used wine corks can all be repurposed into unique art pieces. Use adhesive and a blank canvas or a picture frame backing to arrange and secure these objects creatively. The result is a one-of-a-kind masterpiece that carries a personal touch.
4. Get Crafty with Paper Mache Art
Paper mache is a versatile and inexpensive art medium that allows you to sculpt and mold various shapes and sizes. To get started, mix equal parts of flour and water to create a glue-like paste. Tear newspaper strips and dip them into the paste before layering them onto a mold or structure. Once it dries, you can paint, decorate, and even add texture to your paper mache creation. From sculptures to masks and wall hangings, the possibilities are endless with paper mache art.
5. Embrace the Art of Collage
Collage art offers a fantastic opportunity to create visually striking wall art without breaking the bank. Gather old magazines, newspapers, colored paper, photographs, and any other visually appealing materials you can find. Cut out interesting shapes, patterns, or images and glue them onto a canvas or heavy paper in a visually pleasing arrangement. Collage art allows you to play with textures, colors, and styles, making it a fun and flexible way to express your artistic flair.
6. Bring Life to Your Walls with Fabric Wall Hangings
Fabric wall hangings are not only an affordable option for wall art but also add warmth and texture to your living spaces. Visit a local fabric store and explore a variety of prints and textures that align with your style. You don't need to be an expert seamstress; simply cut the fabric into interesting shapes and hem the edges with fabric glue or by hand. Hang the fabric on a dowel rod or use a decorative hanger for a finished look. These fabric wall hangings can be easily swapped out or rotated, allowing you to refresh your home decor as often as you'd like.
7. Play with Typography Art
Typography art is an artistic approach that centers around text and design. You can create your own typography art using software like Microsoft Word or Canva. Select a meaningful quote, phrase, or word that resonates with you and experiment with different fonts, sizes, and colors to craft a visually appealing design. Print your creation on quality paper or cardstock, and frame it for an instant wall art upgrade. Typography art can be a constant reminder of your favorite sayings or a source of daily inspiration.
Conclusion
Creating stunning homemade wall art on a budget is an exciting and rewarding endeavor that adds a personal touch to your living spaces. Whether you choose to paint on canvases, repurpose everyday objects, dabble in paper mache, or embrace the beauty of pressed flowers, there are countless creative possibilities waiting to be explored. Express your inner artist and transform your walls into captivating showcases of your unique style and creativity. With a little imagination and resourcefulness, your homemade wall art will make your living spaces truly feel like home.