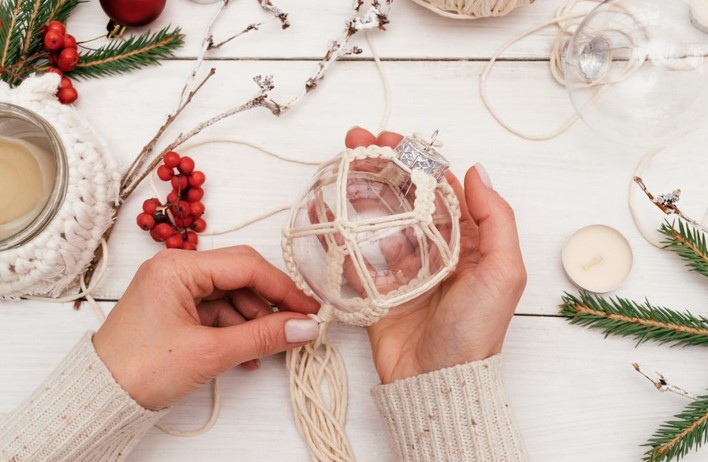 In a world where environmental concerns are becoming increasingly critical, individuals are searching for innovative ways to reduce waste and minimize their carbon footprint. One such approach is by incorporating recycled materials into creative do-it-yourself (DIY) projects. During the festive season, when ornaments adorn homes and Christmas trees, it's the perfect opportunity to engage in crafting unique, eco-friendly decorations. This article explores a plethora of imaginative DIY ideas that make use of recycled materials, allowing you to embrace sustainability without compromising on style.
1. Newspaper Snowflakes
Snowflakes are iconic symbols of winter and the holiday season. Instead of purchasing traditional plastic snowflake ornaments, consider making your own from recycled newspapers. By simply folding and cutting the newspaper into intricate patterns, you can create stunning snowflakes that can be sprayed with biodegradable glitter or painted for a festive touch.
2. Bottle Cap Ornaments
Bottle caps are often discarded without a second thought, but they can be transformed into charming and quirky ornaments. Paint them in bright colors or metallic hues, add small beads or buttons to the center, and string them together with twine or ribbon for a rustic appeal.
3. Cardboard Reindeer
Turn old cardboard boxes into adorable reindeer ornaments. Cut out the shapes of reindeer heads, paint them in festive colors, and add small googly eyes and red pom-poms for the nose. These delightful ornaments will add a touch of whimsy to your holiday decor.
4. Upcycled Light Bulb Ornaments
When your light bulbs burn out, don't toss them into the trash. Instead, transform them into stunning ornaments. Coat the bulb with glue and roll it in glitter for a sparkly effect, or paint it to resemble a snowman, penguin, or Santa Claus. Hang them with ribbons or twine, and you'll have unique and eye-catching ornaments.
5. Scrabble Tile Ornaments
If you have an old Scrabble set with missing tiles, don't despair. Repurpose the remaining tiles to create personalized ornaments. Spell out names, holiday messages, or festive words, and glue them onto a sturdy base. Add a ribbon for hanging, and you'll have a thoughtful and sentimental addition to your tree.
6. Mason Jar Lid Ornaments
Mason jar lids can be transformed into charming mini-frames for photos or holiday-themed illustrations. Simply remove the inner seal, insert a small picture or cutout, and replace the seal. Attach a looped ribbon to the back, and you have an adorable ornament ready to be hung.
7. Repurposed CD Ornaments
Obsolete CDs and DVDs can be given a new lease of life as reflective ornaments. Paint them in various colors or use adhesive paper to create intricate designs. These ornaments will catch the light and add a captivating glimmer to your holiday decor.
8. Wine Cork Snowmen
For wine enthusiasts, saving corks can lead to delightful snowman ornaments. Stack three wine corks on top of each other, paint them white, and add a tiny fabric scarf and a miniature top hat. These cute snowmen will infuse your tree with charm and warmth.
9. Fabric Scraps Ornaments
Got old fabric scraps lying around? Turn them into fabric ball ornaments. Cut the fabric into small squares, apply fabric glue to a Styrofoam ball, and press the fabric pieces onto the surface until it's completely covered. Use a ribbon to create a loop for hanging.
10. Pinecone Ornaments
Pinecones are abundant during the holiday season, and they make wonderful natural ornaments. Gather some pinecones, sprinkle them with white paint for a snowy effect, and attach a ribbon or twine loop for hanging. You can also add a touch of glitter or small ornaments to the pinecones for extra sparkle.
11. Egg Carton Bells
Egg cartons can be transformed into charming bell-shaped ornaments. Cut out the cups, paint them in metallic colors, and add decorative elements like ribbons or jingle bells. These eco-friendly bells will add a delightful tinkling sound to your tree.
12. Button Wreaths
Collect spare buttons in various sizes and colors to craft charming wreath ornaments. Glue the buttons onto a circular cardboard base, layering them to create a wreath-like effect. Attach a ribbon loop to the back, and your unique button wreath ornaments are ready to hang.
Embrace the holiday spirit while also contributing to a sustainable future by creating DIY recycled ornaments. The ideas presented in this article provide a starting point for unleashing your creativity and transforming everyday discarded materials into captivating decorations. Not only will these ornaments add a personal touch to your holiday decor, but they will also remind you and your loved ones of the importance of recycling and cherishing our planet. So gather your materials, get crafting, and make this holiday season both festive and eco-friendly!