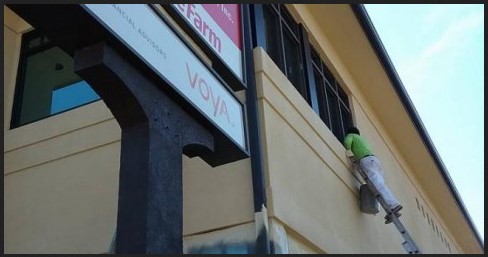 Aging and exposure to harsh elements can wreak havoc on your home's exterior. Signs that require urgent attention include faded stains, peeling paint, and bubbling, amongst other issues. These issues will most likely impact your exterior's aesthetic value. Failing to address these issues head-on and on time can lead to more significant property damage. Commercial exterior painting services are available to right these wrongs and improve your property's aesthetics. 
So what can commercial exterior painting services do for you? If you need a transformation that will wow your clients or visitors, check out these exterior remodeling designs and ideas
Refresh the Fence
Your fence is exposed to the weather, hence it is extremely vulnerable to wear and tear. Improperly sealed wooden fence, for instance, will splinter or rot. When this happens, replacement is the only option. Leaving the fence in such an ill state puts your security and privacy at risk.
By hiring a professional painter, they will carefully evaluate your fence and brainstorm ways to restore its integrity. As expected, stains will only be applied after the surface is free of dirt and other elements. They will also suggest stain colors that will most likely enhance your exterior's look. 
Rejuvenate Your Deck
Extreme weather conditions can make your wood deck look unappealing. As a rule of thumb, you should stain your deck at least once a year. Deck staining requires the services of a competent painter. Before this, the painter will power wash the surfaces to get rid of dirt, droppings, dust, and other elements so that the stain can properly adhere to the surface. 
A commercial painter will make sure that the finished deck comes out just the way you want it. They will pay more attention to the prepping stage before applying the stain. These experts can also help decide on the right kind of stain color that will fit your deck. 
Fix the Gutters
Are your gutters clogged or have they been completely torn from the trim? A bad gutter exposes your exterior wall to weather-related damage. Keeping your gutter in great shape can help you get the most out of your new exterior paint job. One of the key roles of a gutter is to protect your exterior paint. They keep the rainwaters out, preventing your property from flooding. Considering the key role gutters play in the home, it is imperative that you offer periodic maintenance. 
Finding the Right Painter
As you search for the right painter, you want one with the right qualities, experience, and skills; one who can meet your expectations. While there are quite a number of commercial exterior painting service providers, only a few are worthy enough to be entrusted with your painting projects. To find the right one, you have to do your homework. Research, ask questions, and schedule face-to-face meetings with them. Doing this guarantees finding a painter that provides satisfactory service. 
Get help from professional commercial exterior painting services today if you are considering giving your exterior a new look. At the end of the job, you will be happy with the results.